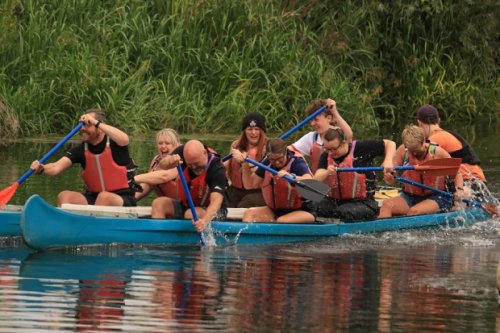 Bredon Boat Races 2023
What a fantastic day!
A huge thank you to everyone who attended the Boat Races on 2 September, making it such a successful day. We had a record number of visitors and 16 boat race entries. This year a number of brave crews wore fancy dress, which certainly added to the spectacle!
The sun decided to shine during the afternoon. There was happy atmosphere and everyone enjoyed the food, drinks and entertainment. It was lovely to see the children rolling down the meadow and dancing to the live music.
Although the Boat Races are fundamentally a fun event where anyone can take part and enjoy a paddle in very safe bell boats steered by experts, some teams take it very seriously and work hard to get to the final run-off and win the cup. Many thanks to all the teams that entered this year. Here are the final results:
First: Peaky Blinders. Captain Graham Potts. Also winners in 2019 and third last year. Peaky Blinders are regular supporters from the Midlands who like to holiday at Croft Farm.
Second: Gym and Tonic. Winners last year. The Gym and Tonic team, captained by owner Chris Warren and based at Croft Farm, is sorely disappointed to lose out this year to their arch rivals.
Third: Stanway Stowaways. First timers! Their captain, Keith, leads a multinational team from Poland, Romania, Ukraine and the UK. They all live and work in or near Bredon. Hopefully they will come again having done so well at their first attempt.
Another fantastic part of the day was the opportunity for children to have a paddle in the boats over the race course. Four young crews of ten paddlers each were formed and they hugely enjoyed the opportunity to emulate what their parents had been doing and realise the amount of effort required.
To put on an event like this is a true team effort. The organising committee has worked consistently throughout the year to ensure that the correct plans were in place to hold such an event. We then needed volunteers to staff the stalls, people to make cakes and donate prizes, prepare the meadow and then clear up afterwards. There is quite a long list of tasks to be achieved and people involved, so a HUGE thank you everyone who helped make the day possible.
The day would not be possible without the kind support of Duncan and Robyn Capps, the owners of The Old Rectory and their lower meadow moorings, and Andy Train and his team of volunteers who supply and organise the boats for us. We are also grateful for our sponsors; their loyalty to the event is first class, so thank you to Croft Farm Waterpark, Bredon's Hardwick; L C Millars Builders, Kemerton; Emotive Design Ltd, Bredon's Norton; The Photo Studio, Tewkesbury and Rajshahi Restaurant, Tewkesbury. Sincere thanks to you all.
Apart from it being a great village event and the perfect opportunity to catch up with family and friends, the event does make some money. This year we raised in the region of £6,000 and this money is being used to upgrade the toilets in the Church Rooms. This is the permanent venue for our playgroup, which so many of our youngsters attend or have attended over the years. The toilets were in a desperate state, so now the children and anyone attending the church for a wedding, funeral or other event have some nice new facilities. By the time of publication, the new toilets will have been completed.
If you would like to get involved with next year's Boat Races, please get in touch. It's a great way to meet new people and to do something worthwhile for our community.
Thank you everyone!
Joanne Hill
(email: joannehill62@live.co.uk)